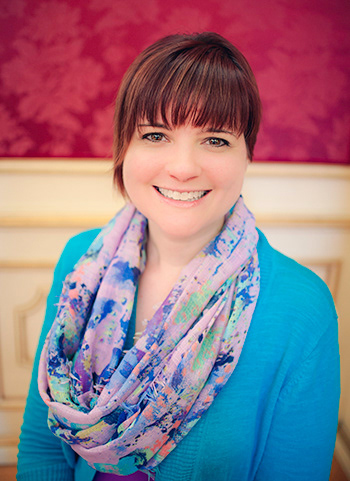 Biography

Jenn Murray is a web & graphic designer with marketing and branding expertise. She is also an effective communicator, insane natural encourager, and lover of all things jewel-toned.
Jenn's career in web & graphic design began on a whim back in 2004. She had returned to college as a young adult to pursue a degree in Business Administration (due to her experience in retail management). Yet Jenn quickly learned that avenue wasn't for her! Relegated to the geographical area at the time, she literally flipped through the college catalog to find an appealing alternative. She came across Graphics Technology and, being a creative individual, she switched majors and never looked back.
Three years later, Jenn was browsing the business section of Barnes & Noble when she came across "Killer Brands" by the infamous Frank Lane. Intrigued by the comic book design of the cover - a bit out of the ordinary for a business book - she took it home and was instantly hooked! It was then that her interest in marketing and branding began to take root. A passion that came naturally, given her creative yet logical mind.
A go-getter by nature, Jenn acquired her first freelance client - national author and speaker Cindi McMenamin - before graduating with her degree in 2007. (It was a relationship that lasted a decade.) Since then, she has designed and maintained sites for a variety of organizations. She has also helped small businesses and non-profits with online marketing and branding; graphic design needs; and social media skills. 
She resides in downtown Pittsburgh, Pennsylvania, where she enjoys the ballet, bike riding, and the occasional Pirates ballgame. Her closet is organized by ROYGBIV - and she sees that as totally okay.
​​​​​​​
Jenn naturally approaches projects from a marketing and branding standpoint. It doesn't matter whether it's part of the project specs; if it's a website or a print design; or if the project will be used in a campaign or not...those considerations are always in the forefront of her mind.
Jenn also has high standards for her work. She believes in doing the best job possible and is never satisfied with mediocre. She likes to be challenged; to grow; and to remain busy. Multi-tasking is not something she shies away from, and she recognizes the importance of solid communication among teams. 
That being said, Jenn believes in having a work hard/rest hard lifestyle. That since giving your best requires a lot of energy and brain power, it's important to balance work with play.