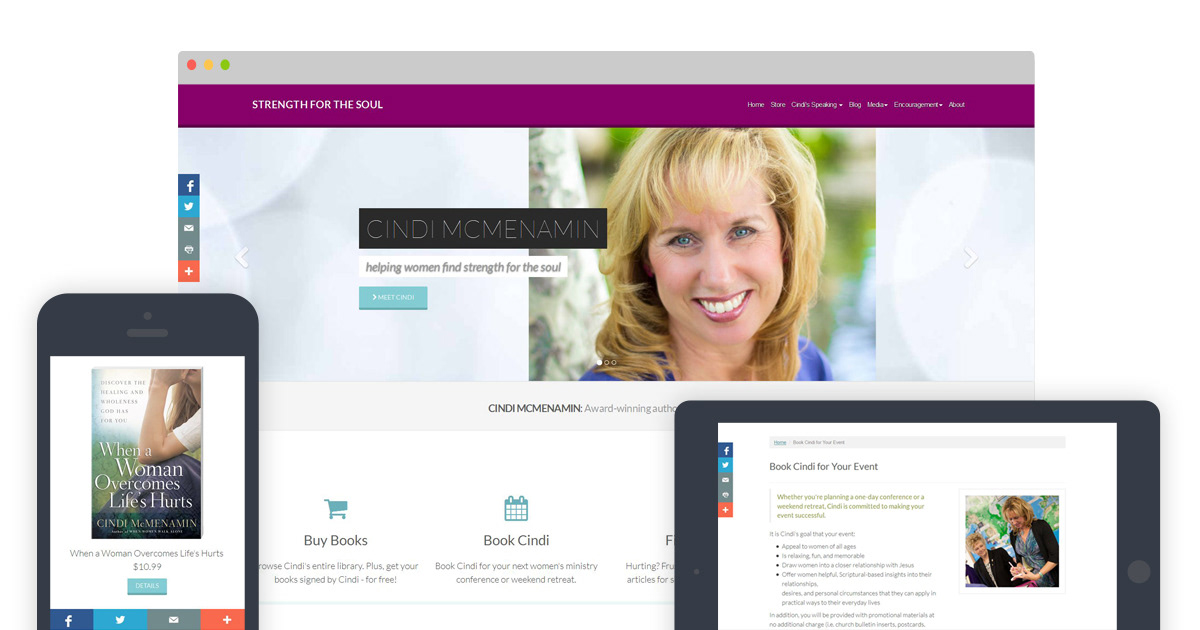 Industry:

National Author & Speaker
As Cindi's web designer for over a decade, I had the pleasure of redesigning her website four times.
For this particular project, we had two major goals. First, the site needed a more modern design. Cindi was starting to target a younger female demographic, and it was important that the site appeal to women of all ages.
Second, the site needed to be responsive. The current site - which wasn't mobile-friendly - was already drawing a substantial amount of mobile traffic. This was only bound to increase as Cindi targeted a younger age group.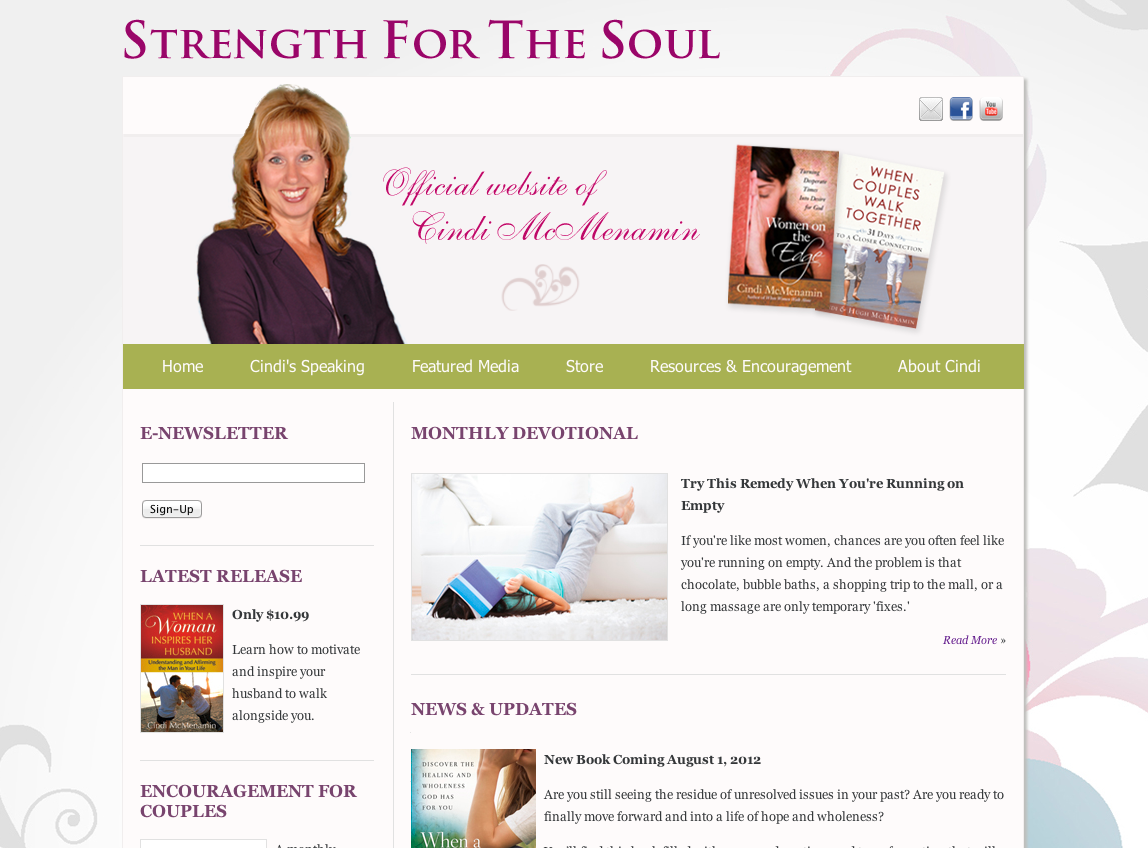 The overall design concept came together rather efficiently. Having worked with Cindi for several years, I was well acquainted with what she liked in a design. We also weren't make any major changes to the site's organization - just focusing on making it responsive.
Responsive design was new to Cindi, however, so understandably she had questions. Before the project started, I walked her through the generalities of how it worked. (For example, how it's one site that adjusts for multiple devices.) Then later on, as I began to code, I let her preview pages via a secure link. That way, Cindi could view the pages on her personal devices, letting her see firsthand how the site formatted itself across different platforms.

While we didn't make any major changes to the site's organization, we did tackle design
specific improvements:
Highlighting Key Areas
- Cindi's site included three major areas: an online store, information about booking her for speaking engagements, and articles of encouragement. To better feature those areas, we added prominent icons to the homepage.
Freeing Up Room
- The homepage of the current site featured a Monthly Devotional. Cindi had recently started a WordPress blog, so we moved the devotional there. This allowed her to publish the devotional herself (versus paying me to update the site) while also freeing up valuable real estate on the homepage.
Adding Testimonials
- Nothing helps to sell a product or service like testimonials, and Cindi had gathered quite a few over the course of her ministry. We placed them throughout the site, incorporating them into the design in such a way that they provided a visual break between content.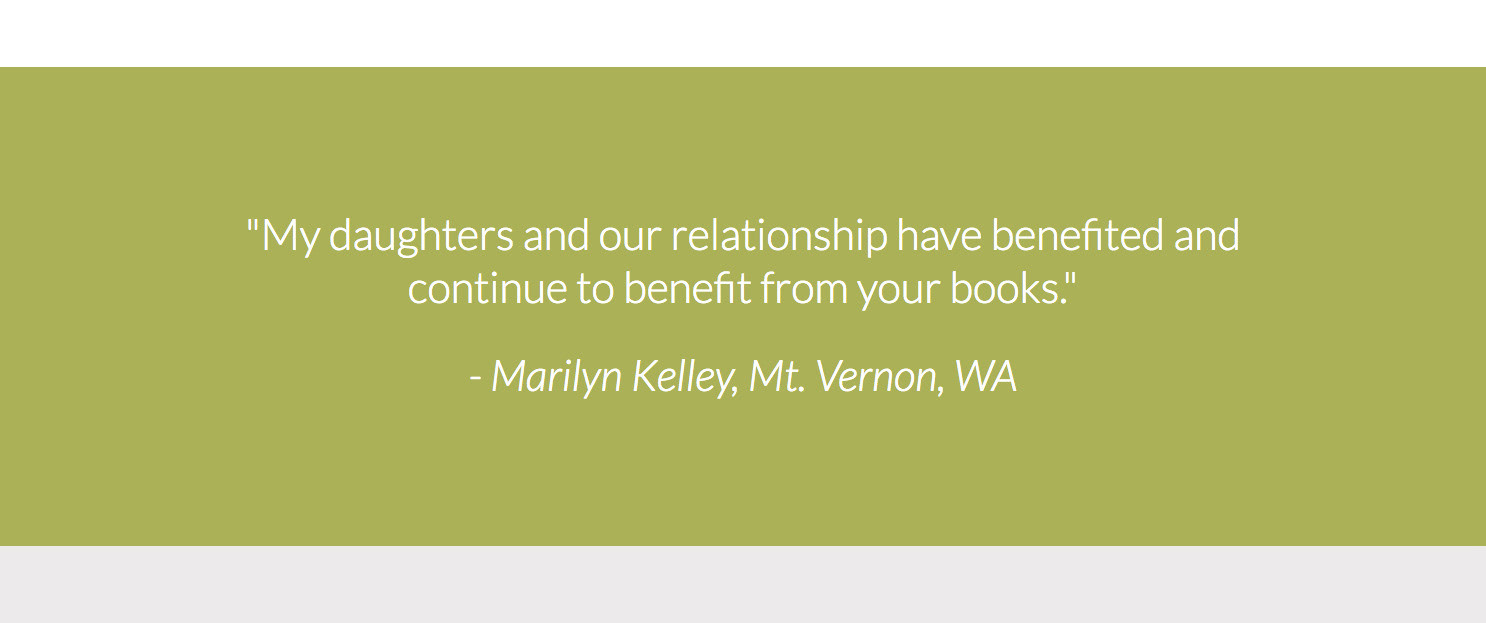 Noting Top Sellers
- Based on collective sales data, we featured Cindi's eight best-selling books on the homepage. This gave visitors an extended overview of Cindi's library and drew them into the store.
Maximizing the Footer
- Cindi is essentially her brand, so we added a short bio to the footer. Thus, visitors can learn more about her from any page. We also moved the "Small Group Resources" and "Writing Resources" links from the main navigation to the footer. Having them grouped under the same area as the articles of encouragement was a bit confusing. Plus, while Cindi would repeatedly link to those pages in emails (saving her from typing out repetitive responses), they didn't require prominent placement.
Showcasing Video
- Cindi's video content had grown since the last redesign. Her publisher was investing in book trailers, for example, so we made sure to feature those nice and large on the individual book pages (located in the online store).
As I mentioned above, Cindi and I worked together for about ten years. Despite that fact that we specialized in different industries, our careers grew at a similar pace. Whatever her website needed as her business grew, I was able to provide as my expertise grew. This helped to create a long-lasting and fruitful relationship.
However, all good things must come to an end - and so it was with Cindi and myself. We simply reached a place where it made more sense to part ways. 
This version of her website is no longer live. But it was a joy to create and illustrates how an author can have a modern, sleek, and professional web presence.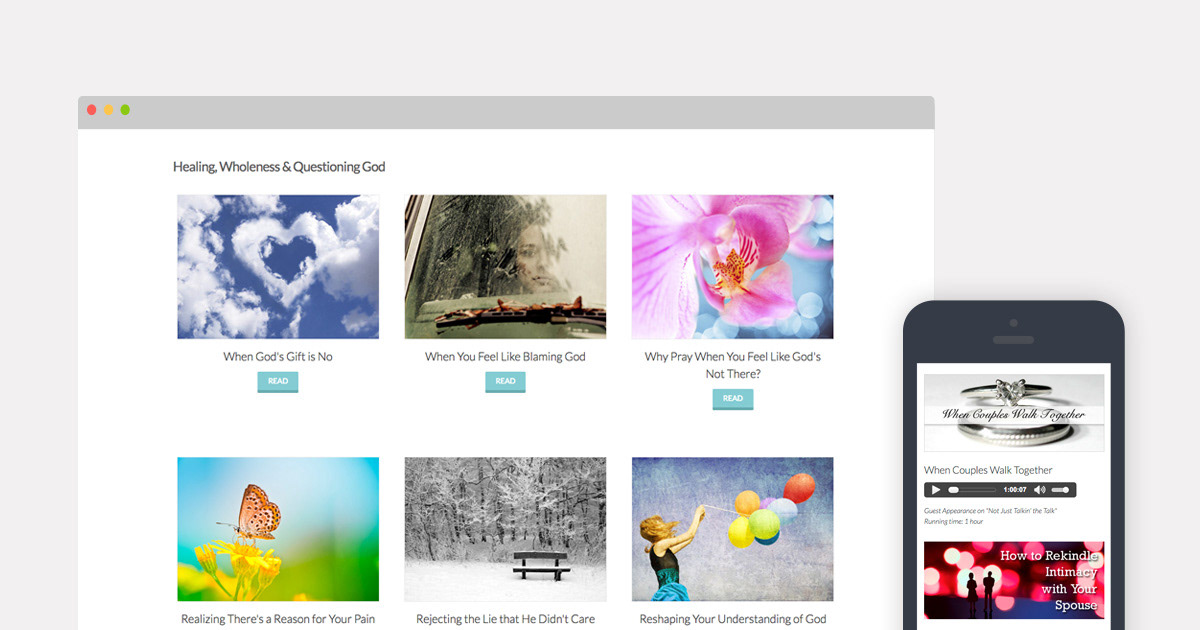 "For 10 years I relied on Jenn's expertise as my web designer. She is creative, efficient, highly-skilled, and always cutting edge."  
- Cindi McMenamin, National Author & Speaker